I thought I'd do something a little different today. Consider this page a bit of a reference tool, with links to ten free tutorials that I really like. Some of these I've used only once, some I've returned to again and again, and some I've bookmarked for future projects. I'm not going to number them like a formal Top Ten list because there's no best one here, they are all the best at what they do. In each case I think the person that took the time to make them did the best job of explaining the concept clearly and I hope that you'll find them as useful as I have.
Tutorials
*
The Magic Ring
- For amigurumi or any project that involves circular crochet with a base chain of more than four stitches the Magic Ring is my favourite starting tool.
*
The Yellow Ball
(
Part 1
and
Part 2
) - If you've never tried amigurumi before this is the place to start. Approximately 18 minutes of video during which the narrator walks you through the process of making a yellow ball by crocheting in spiral rounds. The camera gives a nice close up of the stitcher's hands and the narration tells you what she's doing at every step. Finish this tutorial and you'll have a ball that you can use as the head or body of your first amigurumi.
*
The Invisible Decrease
- Used in amigurumi, this kind of decrease limits the size of the gaping holes that often occur when making decrease stitches.
This penguin is made using fuzzy yarn. Pattern available from Planetjune.com
*
Fuzzy Yarn Tips
- How to work with fun fur and other fluffy yarns. Ideal for furry amigurumi making, but if you're planning to use a fluffy yarn for any kind of crochet project these tips are worth reading.
*
Making Hair
- Two different techniques for making hair for amigurumi and other crochet dolls. One courtesy of
Geek Central Station
and the other from
Owlishly
. Test them out, you may find you're more comfortable with one method than the other or that one is better suited to the kind of hair you want your creations to have.
The hair made on Fellowhip member Sam was created using the technique described at Geek Central Station.
This hair was created using the method described at Owlishly.
*
Plastic Bag Yarn
- The latest trend is creating crochet market bags to replace the less environmentally friendly plastic bags you get at the grocery store. Why not take the process one step further and turn those plastic bags into the yarn you use to make your reusable market bag?
*
Pattern Charts from Video Game Sprites
- Sprite Stitch explains how to convert classic 16-bit video game sprites like Mario into charted patterns that can be used with cross stitching, crochet, knitting or Perler Beads. Even if video game characters aren't your thing there's some good advice here. Also check out
KnitPro
, a free site where you can convert jpegs into gridded charts.
*
Realistic Fur
- How to use a pet's slicker brush to comb out mohair and other fuzzy yarns to make realistic looking animal fur.
Wibit made this Highland Cow using the technique she describes for making realistic fur with a slicker brush.
*
Changing Colours in Tunisian Intarsia
- Once you know how to change colours you can turn any charted picture into an afghan made in the Tunisian style.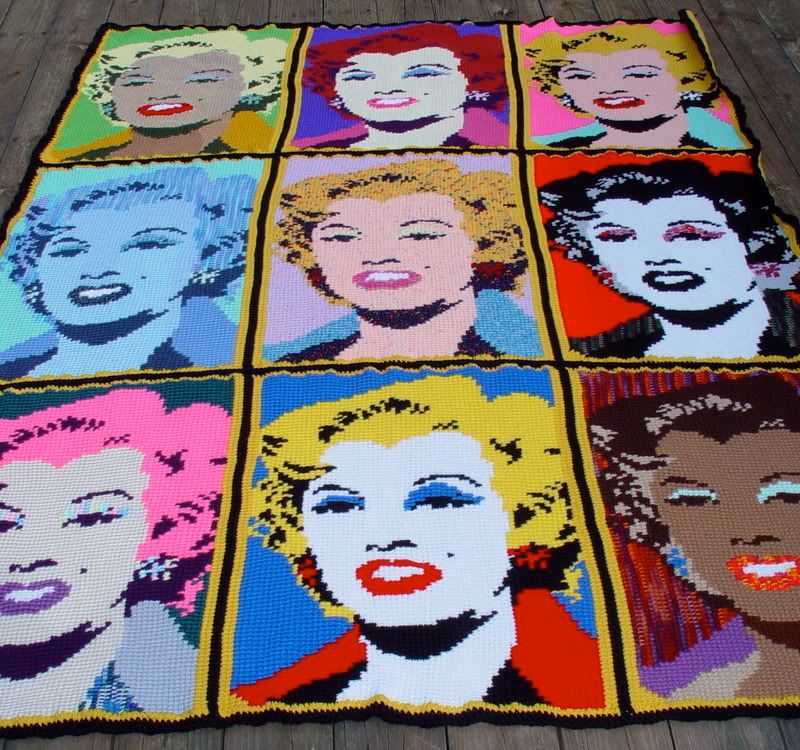 Once you can change colours in Tunisian crochet you can make elborate picture afghans like this Marilyn Monroe Warhol Style afghan made by Pesky Pixie
*
Crochet on the Double Tutorial
- Similar to Tunisian crochet, this technique allows you to make coloured stripes in an afghan working with a double-ended crochet hook. A beautiful way to make baby blankets.
This sample of Crochet on the Double and the tutorial were created by Craftster member fantasticmio.